When it comes to Ulthera, why choose Meko Clinic?
Ulthera uses ultrasound technology to stimulate collagen production and tighten the skin, providing an equally effective alternative to surgery. It is an innovative choice for those looking to tighten loose skin, reshape the face, provide more definition to the frame of the face, and lift the brows and corners of the eyes. Ulthera also smooths out the skin and reduces wrinkles.
One treatment produces results that last up to one to two years with no incisions and no recovery period. Ulthera is certified by the US FDA.
What makes Meko Clinic the best choice for Ulthera?
Ulthera is trusted by many celebrities and stars.
It reshapes the face without surgery.
It does not require a recovery period and results last one to two years.
Performed by expert doctors.
Uses the latest technology.
Consultation and appointment
Meko's ULTHERA Results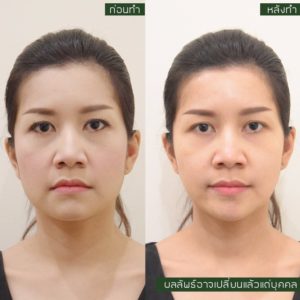 Steps of Service
1
Consultation and Appointment
2
Payment
Payment can be done in two ways:
• Bank transfer (please provide proof of transfer to our staff)
• Cash or credit card (0% interest for 10 months)

3
Preparing for ULTHERA
No preparation is necessary for Ulthera.
4
During the Procedure
• Wash your face and the area to be treated with the solution provided by Meko Clinic.
• Apply the topical anesthetic where the Ulthera will be applied. It takes approximately 30-45 minutes to become effective.
• The doctor will begin the Ulthera procedure. It takes about 30-40 minutes.
• You can go home immediately after the procedure. There will be no wounds and no recovery time is needed.
5
After the ULTHERA
• There is no recovery time after Ulthera and you can resume normal activities without needing to rest your skin as the treatment doesn't damage your skin. The treated skin will look better and better over time.
• You may notice some redness or pinkness or deep swelling under your skin. Avoid touching your skin too roughly.
• You can use makeup and wear sunscreen and moisturizer as normal.
• You can do other treatments or laser treatments after one week. It is recommended that you focus on treatments that moisturize the skin or those recommended by your doctor.