Hello, everyone My name is Tangkwa and I'd like to tell you about my breast augmentation experience at Meko Clinic with Dr. Yos. (I'll be sharing lots of details so anyone interested can understand the feelings and the process of breast augmentation.) I had wanted to have my breasts done for a long time as my breasts have always been very small. Before surgery I couldn't even fill out an A cup. You can see from the pictures that I hardly had any breasts unless I wore a push-up bra or used some padding.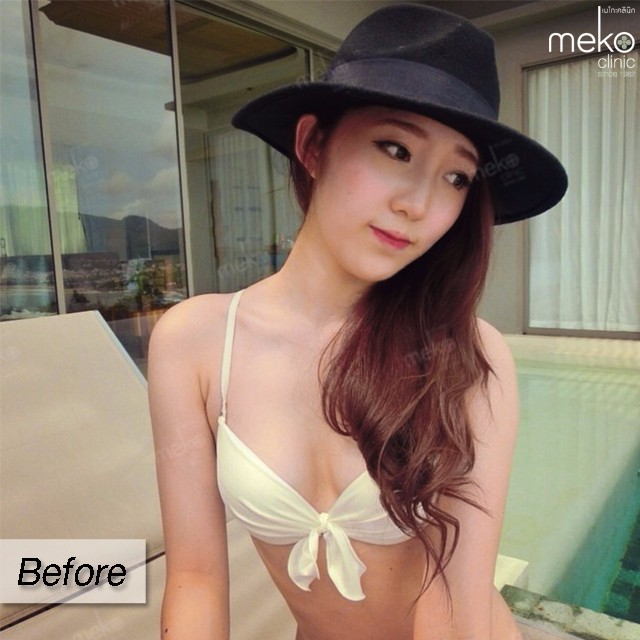 So I decided to have my breasts done to increase my confidence. I wanted to be able to wear pretty clothes without needing extra padding. I did some research and then decided on Meko Clinic because I had many friends and acquaintances who had gone there and were happy with their results.
On the day that I consulted with Dr. Yos I told him I wanted to go to a C cup. I took off my shirt for him to measure my bust. The doctor said I had a small bust, just 28 inches around. Under my breasts I only measured 23 inches. The doctor measured the base of my breasts and recommended 325-350 cc implants. The staff at the clinic let me try on a sports bra and added silicone implants so I could see how they felt.
I talked to the doctor for a long time and I asked a lot of questions. The doctor answered all my questions and gave me plenty of time. I was recommended the 350 cc Mentor textured silicone implants to be placed under the muscles through incisions under the breasts at the price of 80,000 baht. After the consultation I decided to go ahead with the procedure. The staff at the clinic printed out a form for me to undergo a health screening at nearby Paolo Hospital. I went to the hospital, gave them the form, and had the check-up, which included bloodwork and chest x-ray. If the body isn't healthy enough for surgery, the clinic will not do the procedure. It is best to be safe.
After that it was just waiting for the day of the procedure. I really wanted to have the surgery. I wasn't afraid at all; I was just excited. On the day before the procedure the clinic called to remind me to fast before my scheduled surgery time at 2 pm.
On the day of the procedure I arrived at the clinic at 1 pm to prepare for surgery. I had a urine test to rule out pregnancy. Then I changed and waited to see the doctor again. Before the procedure you have to change and wash your face. I recommend that you don't wear any makeup and that you shower and wash your hair before arriving at the clinic. Don't wear any lotion.
After the pregnancy test, washing my face, and seeing the doctor, I went into the operating room. The room is white and has lots of equipment. It is very clean. I met the anesthesiologist who asked me many questions to ensure safety. Then I got on the operating table and lay down with my arms open to the sides. Then it was time for the surgery. The anesthesiologist injected a white liquid into my IV and I fell asleep. They use general anesthesia. I felt very safe because at Meko Clinic, the anesthesiologist specializes in general anesthesia and stays with you the whole time.
I was asleep and didn't wake up until someone called my name. I think I had to move beds. When I moved I felt really tight in my body. Then I was wheeled to the recovery room. I woke up very quickly. In the recovery room I was playing on my phone. (Can't live without my social media!) I wasn't in pain, but I was very uncomfortable. I could rest until I felt well enough to go home. When I woke up I had some porridge and my medicine because I was so hungry. I could only eat a little because I didn't feel too well. I recommend bringing someone with you so they can help you home and take care of you.
Then I was home. I couldn't really do much because of the tight bandages around my body. It was hard to breathe fully. It was even hard to sit or stand without help. I was in the most pain on that first night. I took the medicine that the clinic gave me. In the first three days after the procedure you have to go back to the clinic to have your dressings changed and get IV medication. On the third day the bandage was removed and I felt so relieved. I felt so much better. The tight bandaging was the worst part, even worse than going to the clinic daily for dressing changes, though that's important for cleanliness and safety. You'll feel a bit uncomfortable those first few days, but by the fourth day I felt much better and more relaxed. I could handle the discomfort for my breasts.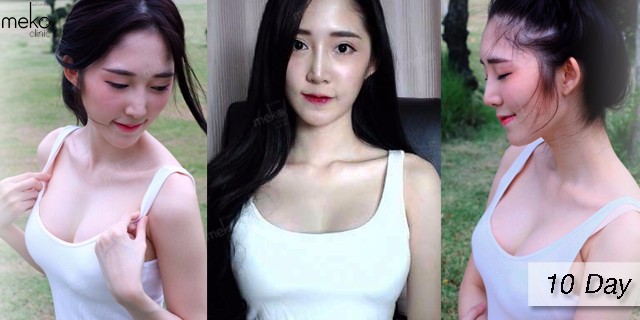 After 10 days I had my sutures removed and then I saw my scars. They are really nice, only a small, straight line. They don't look scary at all. After two weeks I saw the doctor again and they taught me to massage my implants so they are soft and to prevent adhesions. I started massaging them daily and used a cream to reduce scarring. Everything got better and my breasts began to settle down.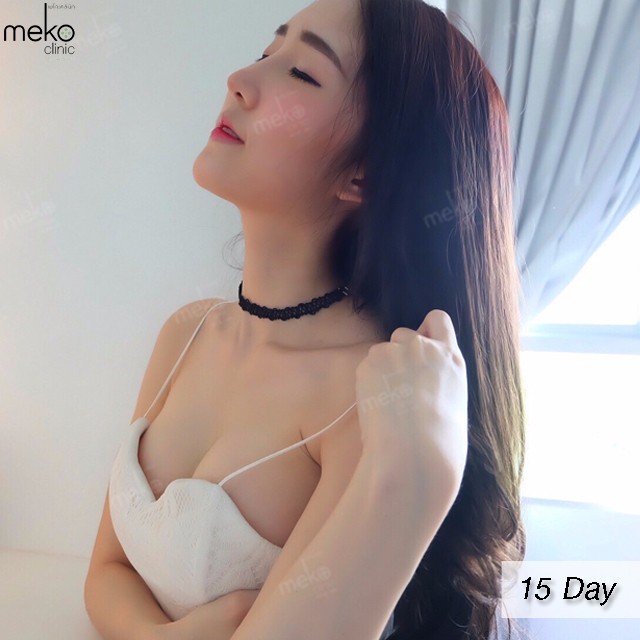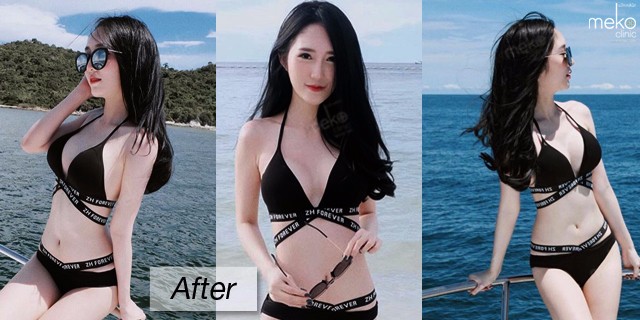 Result By Dr. Oumyos Rattanamahattana